It's a cool, rainy, dreary day here in MN. The kind of weather that makes me wish for a warm, yummy desert. So, today it's Apple Crumb Cake! This has to be one of the easiest recipes I've ever made, but it's always a hit where ever I take it. My friend
Kathy
gave this recipe to me probably 9 years ago and it's still a favorite! Now excuse me, I need to go run to the store...
Apple Crumb Cake
2 cans pie filling
1 box WHITE cake mix
1 stick of butter, softened
1 tsp. lemon juice
1/2 cup chopped pecans or walnuts
Pour pie filling into 9x13 baking dish. In a separate bowl, combine cake mix with butter (will be crumbly when mixed). Add nuts and lemon juice. Pour over pie filling. Bake at 350 for 45-50 minutes or until top is golden brown.
I've also used blueberry, cherry, and strawberry pie filling. Every one of them is delicious, but apple is my favorite!
Now onto the remodeling roundup part...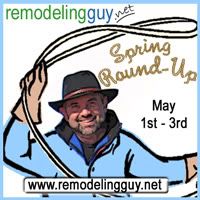 The Remodeling Guy
is hosting a remodeling roundup on Friday - May 1. I've been meaning to post about it for about a week, but I've been busy trying to get my projects finished!!!
Be sure to link up with
RG
on Friday and show off all of those awesome projects you've done - or even some that are in the process or that you're still just dreaming of. It's sure to be a great place for inspiration and you may even win a prize or two!!
Happy Hammering!